The Life Saving Rules are established rules that everyone must respect, without exception. The Life Saving Rules can be found at various sites around the factory site on the boards.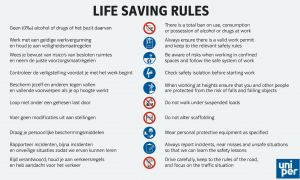 LIVE SAVING RULES
No (0%) use or possession of alcohol or drugs;
Work with a valid work permit, and observe the safety measures;
Be aware of the risks of confined areas, and take proper precautions;
Check the safety situation before starting work;
When working at height, protect yourself and others from falling and falling objects;
Do not walk under raised loads;
Do not make any changes to scaffolding structures;
Wear personal protective equipment;
Report incidents, near incidents and unsafe situations so that we can learn from them;
Drive responsibly; respect traffic rules, and pay attention to traffic;
Also see the Golden Rules.